Nutcracker News
Few Important Dates
Ticket Sales for the Nutcracker will be on Sunday, October 30th at 46 Tioga Way from 11:00a-12:30p then Online Ticketing and we will also be selling tickets during weekend rehearsals!!
2 Performances NEBE Presents "The Nutcracker"
Saturday, December 17th at 2:30p
Sunday, December 18th at 1:00p

Donner Photos will be on Saturday, December 10th at 10:45a !

Picture Day Schedule
10:45a-11:45aParty Scene, boys, girls, Clara, Fritz, Gingerbread, Dolls, Grandma

11:45a-12:15p Chinese & Arabian

12:15p-1:00p Mazarpan & Lambs & Mice & Mouse King
1:00p-1:30p Polichinelles
1:30-2:00p Candy Canes
2:00p-2:45p Waltz & Spanish

2:45p- 3:15p Snow & Snow Lyrical

3:15p-4:00p General & Soldiers
4:00p-4:45p Angel Princess & Big Angels & Reindeers
Sweatshirt Orders will be out next week!!!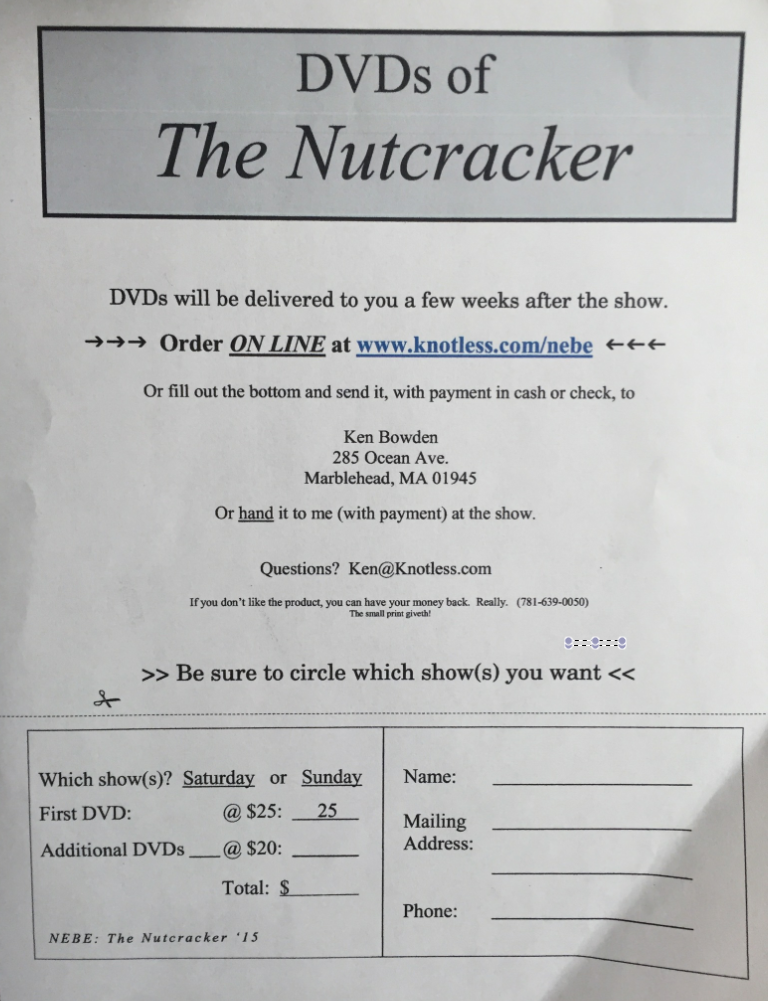 Any questions, please call Lisa's Dance Studio. Artistic Director:
Ms. Lisa, home studio - (781) 639-4424
Tioga Way - (781) 631-7778